My name is Mike and I am originally from Stoke on Trent but have lived, since 1994, in Leek in the Staffordshire Moorlands.
My journey into web design and SEO started in 2001 and came about totally by mistake.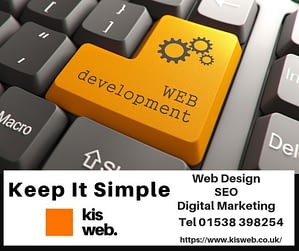 At the time I was employed in sales in the advertising industry (print). In the newspapers, there were stories of people making a fortune from domain names. Registering names and selling back to companies/people who hadn't already registered them. Some of you may remember a tv talent programme called PopStars. In one of the newspapers, I read that a name had been given to the group that would win. The name was Hearsay.
I looked at whether the domain name had been registered but Hearsay was already taken. So I decided to register hearsayofficial.co.uk, thinking that I would be able to sell it for a fortune when they were announced as winners.
They were announced winners but, nobody wanted to buy the name. I was stuck with a domain name for a band I didn't really like. I decided to make a "fan site" thinking that would be easier to sell. Looking back the site was a design disaster but it did well in the search engines and had lots of teens emailing in asking questions about the group. Surely I could sell it now. No, still no one wanted it. I added some affiliate links into the site and slowly started making some money from it but it never made my fortune.
What it did do was show me the power of the internet and how you could gain an audience and use search engine optimisation techniques (although they were not called that at the time) to further that audience and turn them into clients and customers. I bought several more domains and made sites this time concentrating on audience and profit, taking in affiliate marketing, Adsense, e-commerce, lead generation.
My web design skills and SEO knowledge improved and I reached the point where I was making more money from my internet ventures than from what was a very well paid sales and marketing job.
In 2003 I resigned from my job and went full time into the internet business. I also started being asked to make websites for friends, which is how Keep It Simple Web Design – Kisweb came about.
Fast forward to now and I do the work I do because I still enjoy it. I like the industry. I like the people I meet. I like to talk shop without being nerdy. I like to see the results. I like to make money doing what I love.
Hopefully, we will cross paths and we can move our businesses forward, together.
Give me a call on 01538 398254, I am always happy to talk and advise.